ARE YOU A BUSY WOMAN TRYING TO DO IT ALL?
You question "why can't I do it all?" or get stuck with wanting to do things perfectly.

You feel overwhelmed and not sure where to start.
You wonder if you are doing the right thing.

You are feel like there is never enough time.
If you said yes to these questions, YOU ARE NOT ALONE. And it is why we have created this 5-session series. Whether you are a professional woman, a mother balancing the role of work and family, or a mother staying at home, we help women overcome these very challenges!
This course is not just another stress management course. We skip the fluff and get right to the heart of the matter. Our approach is grounded in the latest science of psychotherapy yet presented in a practical step-by-step flexible approach.
In this short yet powerful 5-session series you will cultivate skills of awareness and self-compassion that will give you the power to respond more skillfully to your thoughts, feelings, and difficulties that show up in your life.

We will help you implement powerful and practical strategies for making the transformations you need to live your best life.
Deep dive into how you can live with greater confidence and ease to show up authentically and courageously in your busy life.
Course Topics
Session 1: Showing Up To Life
This session will set the foundation for making small changes in your everyday life to truly thrive. You will learn what being present means and does not mean, doing vs. being mode and why you need to practice the 'being mode' more often. You'll leave this session with simple yet powerful strategies for building in more moments of 'being' that will enhance your focus and help you thrive in your busy life.
Session 2: Becoming Your Dearest Friend
Session 2 is a game changer. You will leave this session with a tool that has been called a superpower – kindness toward yourself (we know kindness works at influencing others…well guess what, it works for you too!). You will learn how to support yourself in difficult moments and to motivate yourself toward making tough changes you want with kindness rather than criticism. The top executives, athletes, and performers around the world are discovering this impactful tool! In one single session, you will have the recipe to use this skill to become the best version of yourself.
Session 3: Freeing Yourself From Your Inner Critic
Most of us have an inner critic – that voice that we are not good enough (impostor syndrome, anyone?), or that let's us know that we have messed up! This session will help you get unstuck from your thoughts by teaching you simple tools for not believing your thoughts. You will walk away from this session with reclaimed control of your mind, allowing you to live a more satisfying life.

Session 4: Finding Your Way Through Uncertainty
We all crave certainty in life and yet control is an illusion. You will leave this session with greater clarity in the choices you make in your life. We introduce a step-by-step guide, a powerful tool that you will be able to use in any situation. This tool will help make decisions about what to do that is truly in alignment with what matters most to you, helping you to take important steps toward living your best self.

Session 5: Cultivating Resilience
Life is filled with challenges. In this session, you will learn what you need to put in place in your life to weather the storms of this human existence. You will leave the session having identified your particular stress and arousal levels and an action plan for what you need to do to resource yourself to become more resilient.
Each session comes with worksheets to help you put the skills we are teaching into action. PLUS, these bonus exercises:

Bonus #1: The Mindful Breath. A powerful audio exercise that will help you shift from DOING to BEING. This exercise is focused on helping you develop a different relationship with your thoughts and feelings.
Bonus #2: Self-Compassion Break. A powerful audio exercise to help you become your own dear friend.
Bonus #3: Leaves on Stream. An audio exercise to help you learn to let go of your inner critic. This one is a personal favourite!
Bonus #4: Your Guide to a Resilient You. Our top strategies to helping you resource yourself and become more resilient.
And one more Bonus!
Bonus #5: The Matrix. We are including one of the exercises that is taught to clinicians to help clients get UNSTUCK, and we're including it in a live demonstration between Dr. Tracy and Dr. Julie, AND you will get a guide that you can take with you to do it anywhere. This tool is so powerful - you don't want to miss this bonus!
"It was such an honour to attend and be a part of Dr. Tracy's and Dr. Julie's inaugural "From Stressed to Balance" e-course! I would highly recommend this course for everyone, from the multi-tasking professional and the stretched-too-far parent.

Both women are leaders and pioneers, and their course was engaging and thoughtfully designed. I left each week with new tools and insights that I can leverage in my day-to-day. I wear many hats in my life and have become accustomed to living much of my days on 'autopilot'. Dr. Tracy and Dr. Julie remind you it is okay to slow down, take care of you, silence the inner critic, and be gentle with yourself. They encourage mindfulness, they speak to the human in us all, and they provide tools that encourage resiliency. While the exercises in the worksheets push you to 'dig deep', they courage real inner growth. "
- Ashleigh, Toronto, Ontario, Canada
Your Instructor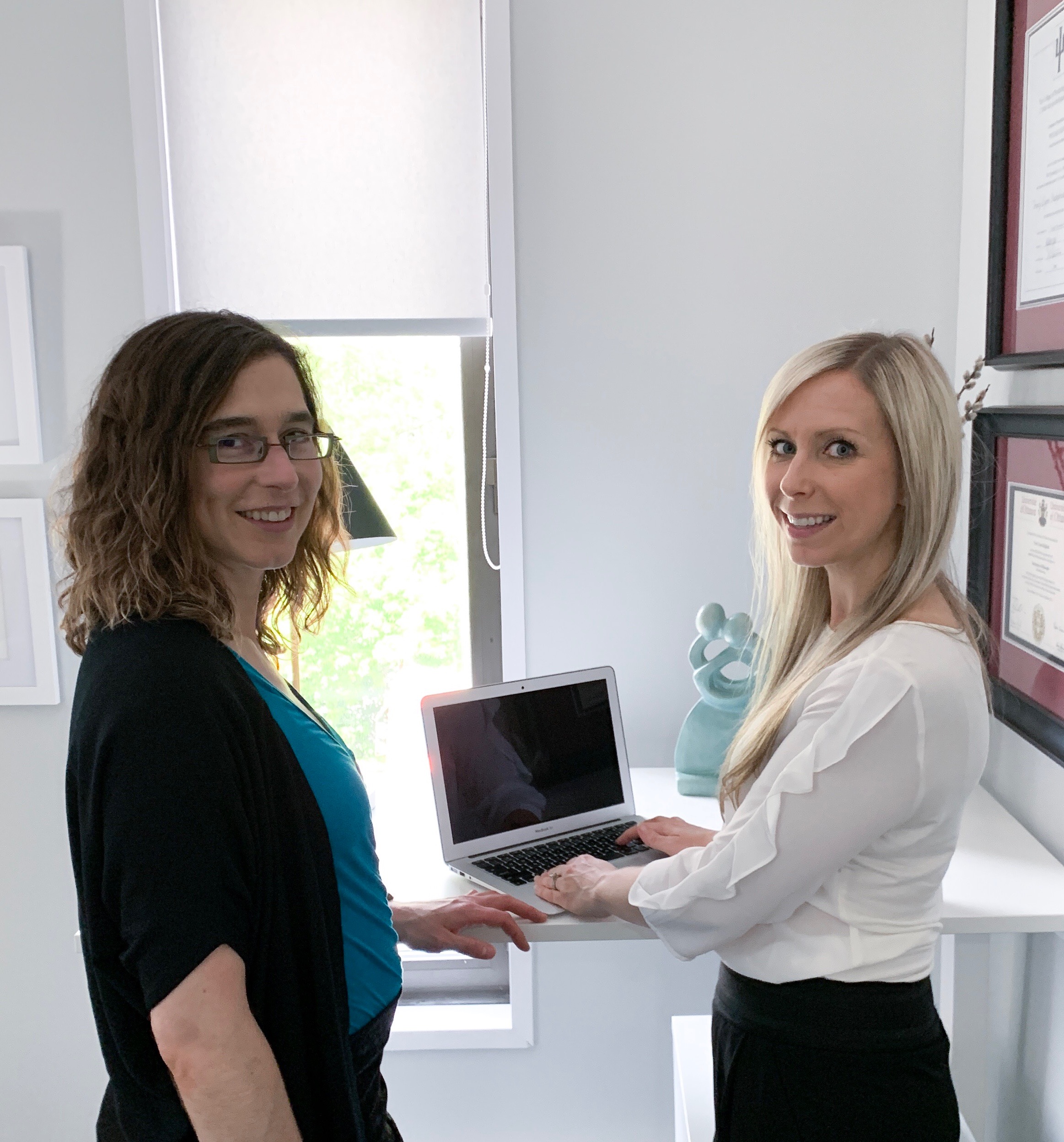 With over 25 years of combined experience, Dr. Julie Beaulac and Dr. Tracy Dalgleish are focused on helping others optimize wellness, live a meaningful life, and cope with a variety of mental health difficulties. They have contributed to international and national conferences and published in both peer-revised journals and book chapters.
While they both spend time in the therapy office providing assessment, diagnosis, and treatment, Dr. Julie and Dr. Tracy are working to bring the tools they teach clients every day more accessible through e-courses.
For more information on your instructors, please visit DrJulieBeaulac.com or DrTracyD.com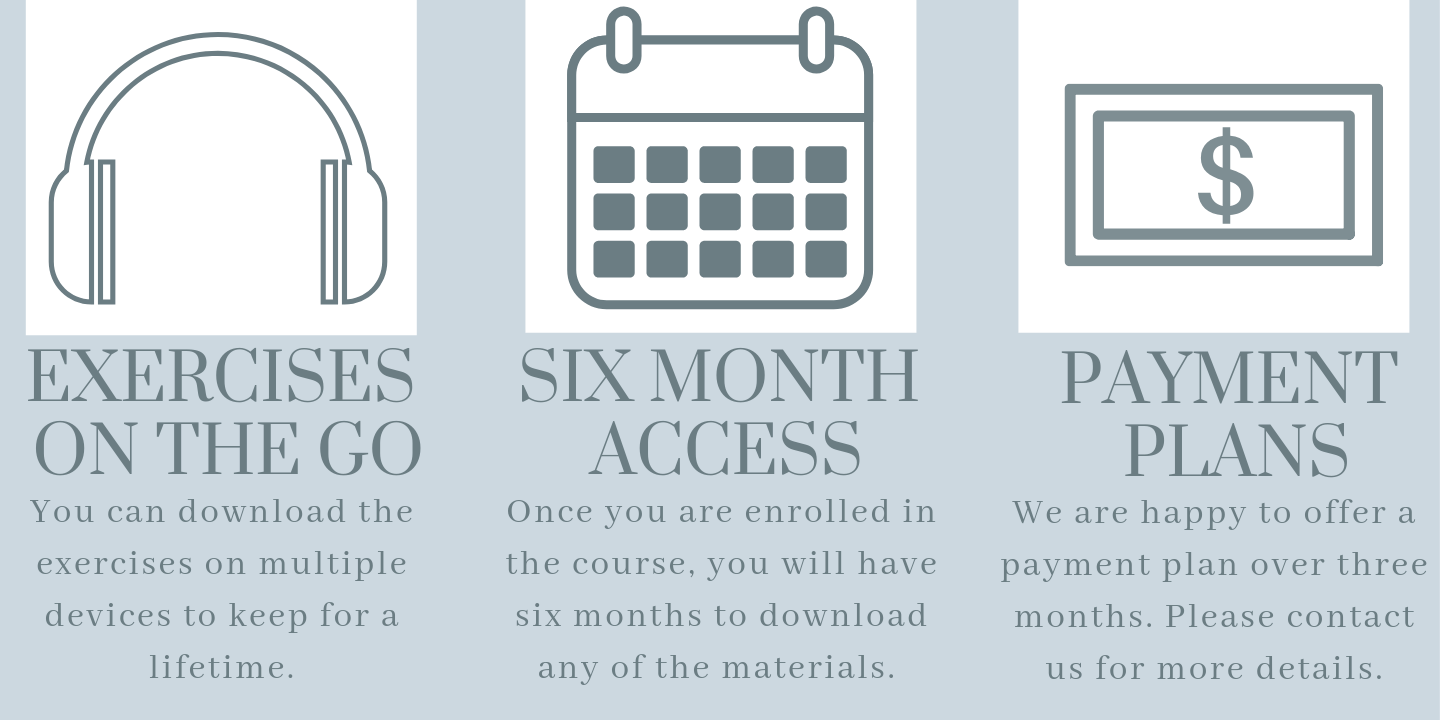 Course Curriculum
Session 1
Available in days
days after you enroll
As a mother, a diligent professional, sister, friend, daughter, and more, I found myself in the precarious position of trying to be everything to everyone. My boundaries were becoming more malleable by the minute, and my stress and guilt levels were accelerating to an all-time high.

Something had to give. I registered for the Cultivating Awareness & Self-Compassion course by Dr. Tracy and Dr. Julie, and I'm so grateful that I did. From the first session, I became more aware of how much I was doing, where I was putting my energy, and how I was ultimately feeling overall. If you're a woman (like me!) who is sometimes prone to should-ing all over yourself, Dr. Tracy and Dr. Julie show us how to be more compassionate with our inner critic. The activities designed with busy schedules in mind, being able to watch the course videos remotely removes obstacles to showing up for yourself. I highly recommend this program!
- Rosie, Ottawa, Ontario, Canada
Frequently Asked Questions
Why an e-course?
We recognize that you may not be able to attend multiple therapy sessions. You may not have time or money, or be interested in attending therapy. This course will teach you the skills you get from therapy but in the format of an online course.
What is the format of the e-course?
You get to choose where you are to join each of the 5 sessions. You will be provided with audio and PDF exercises each week to maximize the impact of this e-course.
What if I am busy or away one week? Do I have to do this course in 5 weeks?
Not to worry. We appreciate that you are busy and have other commitments. You can do this course in 5 weeks or take as long as you need! It has been developed with a busy woman in mind and will fit into your life!
How much does it cost? Do you offer payment plans?
We created this program to be accessible and affordable for busy women across life situations. This course is like five therapy sessions, for less than the price of one. Please contact us if you need a payment plan. We want this to work for you.
What's included in the course?
You get comprehensive slide decks for all five sessions. You will also get multiple exercises for each session, including both audio and PDF format, which you can download and take anywhere with you. Plus, you get to keep all of these exercises for life!
What are the pros and cons of taking an online course?
An online course is a general educational tool and is only used for informational purposes. Similar to a self-help book, blog post, or podcast, you will learn tips and tools that you can implement in your life. Unlike therapy, an online course does not provide a therapeutic relationship or therapeutic treatment, and therefore should not substitute for the care of a health professional.
If I am already in therapy, can I take the online course?
Yes! These sessions can be helpful on their own, taken at the same time as, or as follow up to therapy.
How does enrolment work?
This course is being offered 4 times a year. Enrolment will be open for two weeks. This means that if you miss enrolment, you will have to wait until the next time our doors open!
How long will the course take me each week?
The course has been designed with busy schedules in mind. Each session is approximately 40 minutes each week. You can re-watch however many times you like. The weekly exercises provided can be done at your own pace. They are brief and can often be incorporated into activities that you are already doing.
YOUR FAMILY, FRIENDS, AND COMMUNITY WILL ALL BENEFIT FROM A HEALTHY AND THRIVING YOU!